When it comes to videos, YouTube SEO plays a strong part in video SEO. When we say SEO most of the Digital Marketers point at Google. Because everyone knows that it is the most powerful search engine out there which has occupied a major part of the market share in search engines.
But that's not the only thing which is giving you the best search results.
YouTube is the second most popular search engine out there with its SEO process.
If you want to boost your video rankings on top of YouTube search results, then you need to follow a certain set of rules.
The report of Alexa traffic rankings, YouTube is the second most visited platform on the internet, after the giant Google.
But unfortunately, many people treat YouTube as a social media site just like Facebook, Twitter, etc.…
You find many videos related to the same topic when you type your keyword and search for it. But how do you make sure your videos capture the top spot on the YouTube search results page?
When we say YouTube SEO, it's not just uploading the videos to your channel with a thumbnail and you're done!
That's not enough if you want to compete with the most subscribed youtube channel in the world. Then there is a lot of optimization process you need to implement for each new video you upload to your channel and also it's good practice to optimize your old videos as well.
In this article as you read through, you will be able to understand the complete YouTube SEO process.
What is YouTube SEO?
YouTube SEO in simple words, optimizing your videos in such a way that when a user types in their search query the crawlers find your videos and served as search results.
Optimizing your videos is actually the process of optimizing your channel cover, video thumbnails, playlists, video descriptions, video file names, and more.
Since the crawlers don't understand the images and videos, you need to give them the right direction in the form of a proper text or file name. That way you can tell crawlers that see this is the video you're looking for.
The key to success in YouTube is to have a channel search engine optimized, with proper metadata – that is title, description, tags these are the major things you needed, once you have these things optimized then thumbnails, playlists, end screens, cards, hashtags.
What is SEO for YouTube?
SEO for YouTube is just that how well your videos are optimized for the search query of users. If the videos are properly optimized with title, description, keywords, cards, end screens, attractive thumbnail these are the basic things that should be properly updated.
There are more factors that you need to follow in YouTube SEO to rank better on the search results.
How to Do YouTube SEO?
Many of the YouTubers out there are creating amazing video content for their channel. But sadly they are not getting success in what they are doing.
It takes lot of time for research, script, video shoot, voice-over, editing and finally uploading to YouTube.
After investing such an effort to bring out great content for your viewers, when the video is published and you're not getting enough views. I can understand the pain you go through. Because I have faced such situation in the early stage.
But when I came to know about YouTube SEO, I have done enough research and study and understood the real strategy of it.
I strongly believed in that and made a proper strategy to get my videos rank among other competitors.
I will show you how I did it, please read the article further to understand my strategies:
How Do I Add SEO to YouTube?
Following are the essential steps to add SEO to YouTube:
Step 1: Keyword Research
The process begins with keyword research. First, you need to have a strong base of keywords.
These are the typical process on how to get keywords for your videos:
I use the YouTube search bar to get suggestions on popular keywords around the term digital marketing and then I choose the best one which suits my article.
As shown In the image below YouTube shows the popular keywords list on digital marketing when I start typing.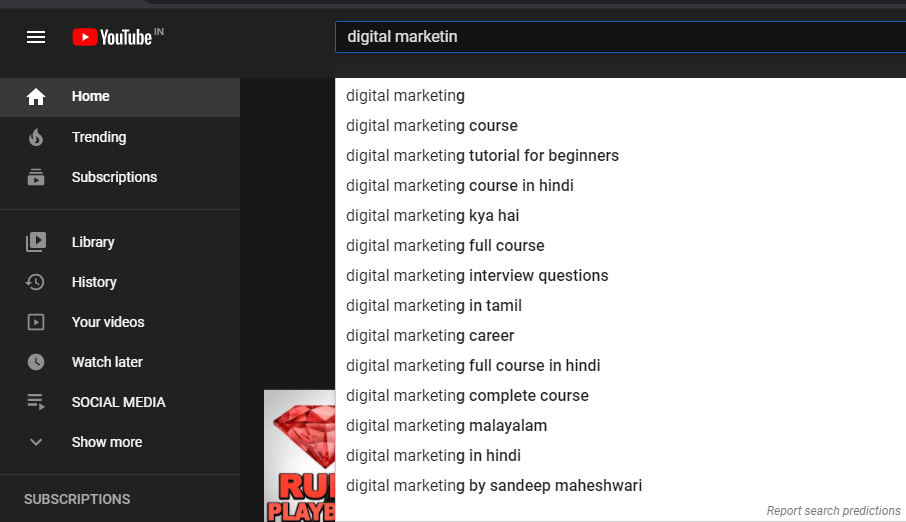 If YouTube is suggesting a bunch of keyword ideas then there is no doubt that those are the search terms used by the users to search something.
Without thinking too much about you can go with the suggestion and include it in your video tags.
And another way of getting the best keyword ideas is to go to a similar channel around your niche and sort by the most popular videos and click on the top video. All the keywords used in the video will be revealed by this tool keyword everywhere.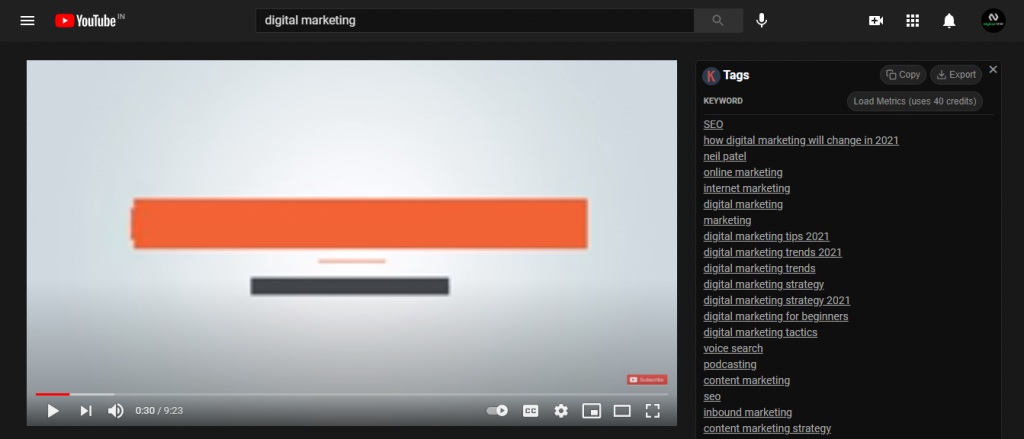 How Do You Add Keywords To Youtube 2020?
It's very simple just open your video and go to the edit video option and scroll down and click more options, you'll find tags where you can add your keywords. As shown in the image below.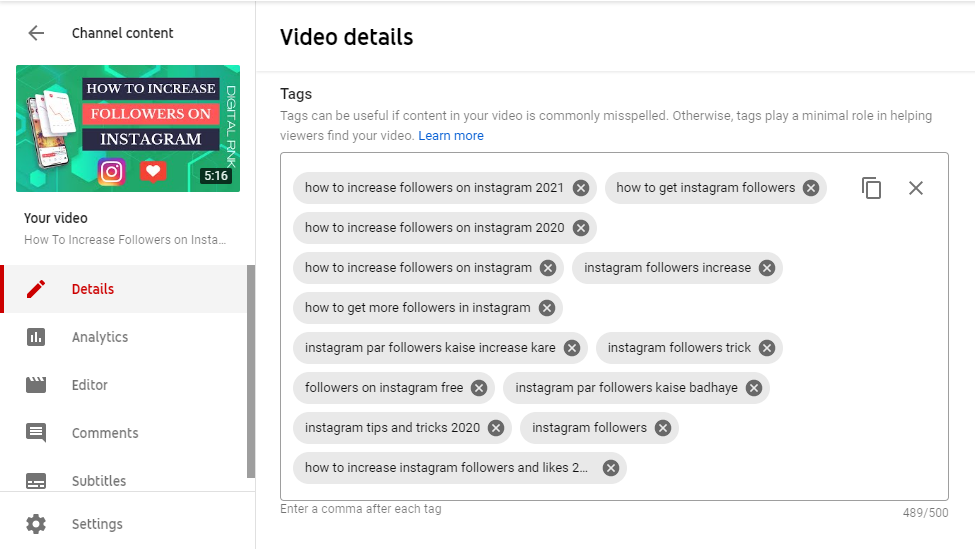 Here YouTube sets the limit of 500 characters of tags you can add, make sure you include the powerful keywords to rank better. Don't try to add a single-word keyword as they are highly competitive and you won't get any results from them.
Step 2: Write a Keyword-Optimized Title and Description
Now that you have researched the best keywords for your video, it's time to write a compelling keyword-optimized title and description.
While creating a title for your video, you need to make sure you have included the keywords in the title and description.
Does YouTube Help with SEO? Yes it does help with SEO, if you have your video optimized with proper title, description and other important SEO process, definitely it helps you to rank in search results. Rather than doing nothing just do it and experience the output from YouTube SEO.
Always remember this "Words and phrases help the crawlers to find your content so proper key phrases are very essential for YouTube SEO".
Title: Try to wrap your title text with 70 characters, however, YouTube has a limit of up to 100 characters but it displays only 70 characters in the search results. So it is advised to keep your title text with 70 characters.
Description: You can add a description of up to 5000 characters, but it's essential to include your keyword in the first line. Because in the search results it displays only the first 3 lines otherwise 170 characters.
Step 3: Create an Attractive Thumbnail
Once you have the title, description, and keywords. Now we have to attract or welcome the viewers by creating a compelling thumbnail for your video. It's good to create a standard thumbnail for all your videos with your brand color and relevant supporting images in the thumbnail.
Although YouTube displays the small version of the thumbnail. It is recommended to create high-resolution thumbnails. Keep the aspect ratio of the thumbnail to 16:9.
Step 4: Create Playlists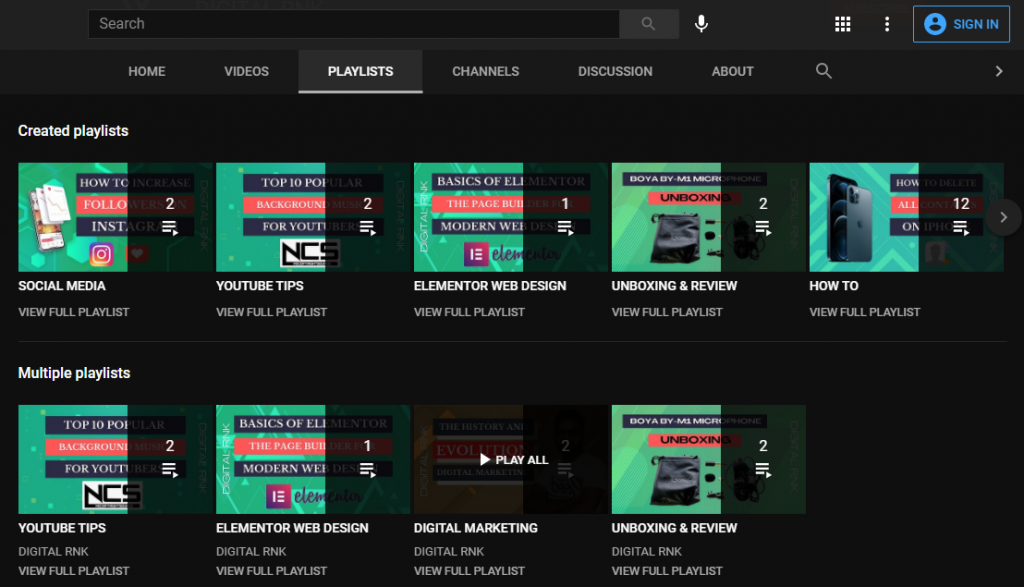 It is good to have playlists for different categories. It not only helps you in your YouTube SEO but also increases the watch time of your videos.
How do you increase views on YouTube?
When someone clicks on a playlist the video starts playing, if you can grab the attention of your viewer in your first video itself then automatically your audience will start watching the videos one after the other. That way you can increase the views on YouTube.
Step 5: Promote Your Videos
Once you've published your videos now you have to promote them and don't wait until people find them.
You have to share your videos on all the social media platforms most importantly write short content around that topic and post it on Quora. Here people are spending most of their time getting information on various topics.
Here you'll get a lot of views to your videos, also you will get high-quality views from these sites because they are looking for relevant content and the watch time also increases. We shouldn't forget our property i.e. your blog or website. Embed your videos in your blog post that way you can bring traffic to your YouTube channel as well.
Which is the Best YouTube SEO Tool?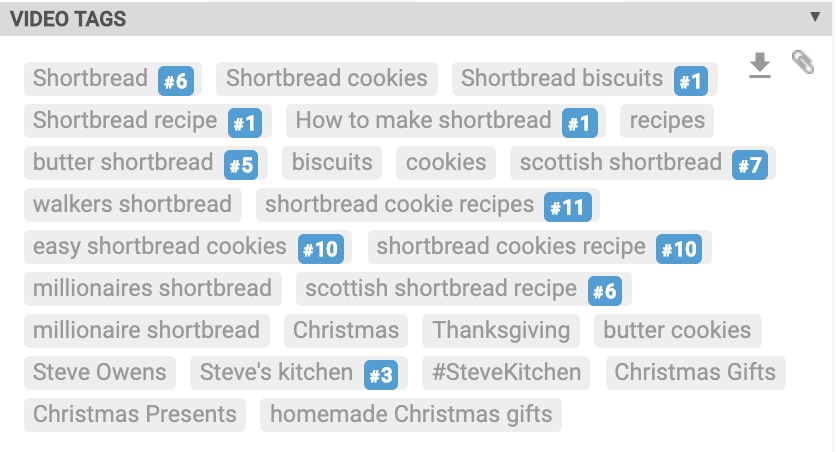 Now that you have understood the best method to do YouTube SEO. You're excited to start optimizing your videos and start ranking in the YouTube search result.
Here I am introducing you to a tool, I have personally tried and tested and got the best results. vidIQ is the best YouTube SEO tool that helps you to find the best tags for your videos. You can see the SEO score for your video, it displays the detailed analytics of your video in one place. Social engagement is another cool feature that serves you the detailed data on how your video is performing across different social media channels.
Best YouTube SEO Tips
The best tips for a successful YouTube channel are listed below:
Search for the keywords in the Google search. If you find the video in the typical Google search, then you have the big opportunity because it displays the video results only for certain types of key phrases and not all.
You might have noticed that Google displays 3 to 4 video results right at the beginning of the search for some keywords. Find such keywords and create content around them.
For instance, if you type keywords like How-to, tutorials, reviews etc.…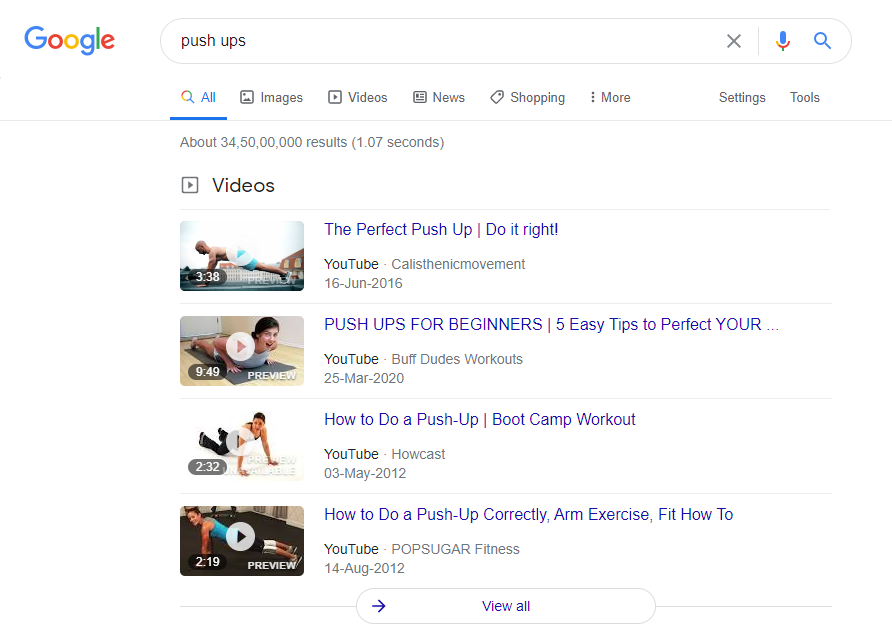 Next up you have to create a high retention video, If you want to boost your video ranking then you need to make sure your viewer spends a good amount of time on the YouTube platform. And audience retention is a huge ranking signal.
There are other ranking signals YouTube uses in its algorithm:
The comments for your videos get a strong alert! to YouTube, it thinks that your video has provided great information or entertainment to your viewer and they have enjoyed watching it.
The ranking of your video strongly works when you have more positive comments. It is very important to respond to each comment you get on your video.
Every new subscriber you get after they watch your video is sending a positive signal to YouTube that you have great content on your channel.
You can't expect always that you get subscribers automatically. You need to ask them at the beginning of your video and the end of your video.
How many people have shared your video after they watch it on other platforms? When someone shares your videos which means that you have great content. Just think about yourself do you share bad content? No Right. So this is also a very good message your channel sends to YouTube. Create long-form videos, just like your text-based articles, when you have a lengthier article that ranks better on Google.
YouTube SEO Tutorial
You have plenty of tutorials available out there on the internet. But I don't recommend you to refer all those because they don't provide effective solutions rather you're just wasting your time.
I followed Mr. Brain Dean who is the king of backlinks, so he has his blog where he provides a lot of useful information on SEO. Not just YouTube SEO, he also guides on how to rank your text-based article with a backlink SEO strategy.
Conclusion
Now you know how to implement SEO for your YouTube videos and to rank in top position. But the question is how well you are prepared to execute this?
To get success in YouTube among others you need to have consistency, dedication, and commitment. If you are ready then start optimizing your videos for YouTube SEO. Let me know in the comment section, how well you are optimizing your channel and which method you're following.